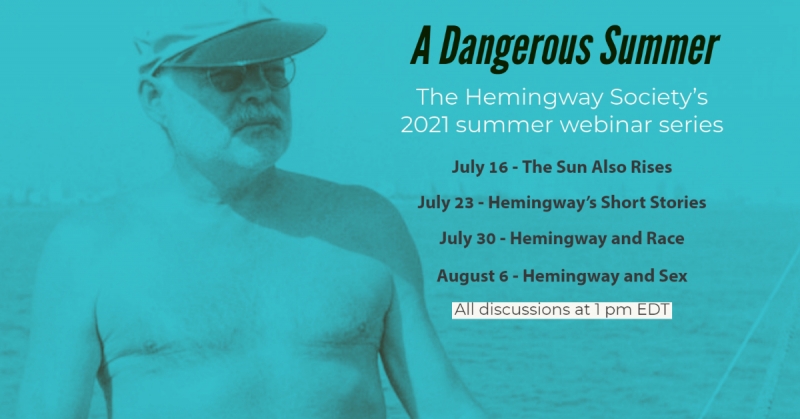 The Hemingway Society is pleased to present our 2021 webinar series
A Dangerous Summer with the Hemingway Society
July 16th @ 1 pm - The Sun Also Rises moderated by Juliet Conway /  Panelists:  Susan Farrell, Jeffrey Herlihy-Mera, and Katie Warczak
Dig deep into Hemingway's The Sun Also Rises.  Whether you are preparing to teach the novel or just want to revisit it with fellow aficionados, this session will review the publication history, reception, and major critical approaches that have shaped the way we understand this important work.  
July 23rd @ 1 pm - Hemingway's Short Stories moderated by Ellen Andrews Knodt / Panelists: John Beall, Susan Beegel, Donald Daiker, and Ross Tangedal
Join us as a small group of scholars candidly discuss some of Hemingway's short stories. Whether you are preparing to teach Hemingway stories or just want to hear what fellow aficionados have to say about them, this discussion will focus on how we and our students read the short stories now, posing questions such as what elements of the stories interest students and what stories or aspects of Hemingway stories are most problematic now?  
Please Note:  Video lags until around minute 13 due to a bad internet connection, but you can hear everything!
July 30th @ 1 pm - Hemingway and Race moderated by Marc Dudley /  Panelists:  Gary Holcomb, Ian Marshall, Quentin Miller, and Peggy Wright-Cleveland 
How might the Black Lives Matter movement affect the way we read, teach, and write about Hemingway? Will it? If so, in what ways? Hemingway and Race is a large and complicated topic.  Hemingway wrote about Native peoples and had a long relationship with the Latin world. This panel will focus primarily on Hemingway's interactions with black people, his portrayals of black characters, and his awareness of and relationship to social movements related to race. 
August 6th @ 1 pm - Hemingway and Sex moderated by Suzanne del Gizzo / Panelists: Carl Eby, Debra Moddelmog, Lisa Tyler
How does the #MeToo movement affect the way we read, teach, and write about Hemingway?  Gender and sexuality have been defining topics in Hemingway scholarship for nearly forty years now, but #MeToo adds new levels of complexity to that already rich discussion, inviting us to think about the dynamics of sex, seduction, and sexual violence in Hemingway's work.