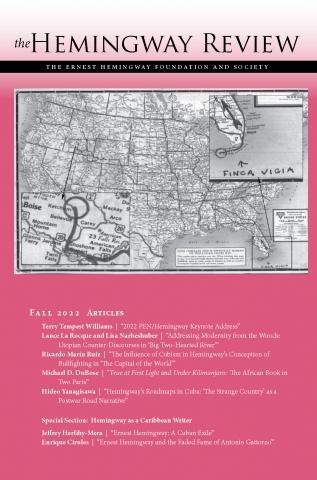 The Hemingway Review, edited by Dr. Suzanne del Gizzo, is a scholarly journal published twice a year by the Hemingway Foundation and Society. The journal specializes in researched scholarship on the work and life of Ernest Hemingway.
Members who are current with their dues on April 15th and October 15th of each year receive printed copies of the journal in mid-May and mid-November, respectively. Current members who are logged on may select "The Hemingway Review" from the Members Menu on the right-hand side of most pages to get full online access to back issues since 2000. Non-members and members who are not current may only access abstracts. Full online access is available by joining the society and remaining current with dues.  
CONTRIBUTING TO THE HEMINGWAY REVIEW
If you intend to submit work to the journal, please see detailed information available at Submission Guidelines
If you have questions about using Hemingway's name, image, or works, please consult our Permissions page.
SOME FACTS ABOUT The Hemingway Review
The Hemingway Review welcomes all critical approaches, traditional, contemporary, and cutting edge. Submissions are reviewed by scholars specializing in the method used and/or subject treated.
The journal does not ordinarily publish fiction, poetry, or other writing that is not researched scholarship. Prospective contributors are encouraged to familiarize themselves with past issues.
All work considered for publication is subjected to rigorous blind peer review by at least two outside readers in addition to the editor, making work published in The Hemingway Review valuable for tenure and promotion dossiers.
Distinguished Hemingway scholars advise on editorial practices.
In addition to feature-length articles, The Review includes notes, book reviews, news from Hemingway-related collections and archives, and a current bibliography.
The Hemingway Review enjoys virtually limitless circulation to college, university, and public libraries via online subscription databases including Project Muse, Proquest, Cengage, and Ebsco.
The Hemingway Review circulates in paper to hundreds of individual Hemingway scholars and college and university libraries around the world.   We out-circulate not only other single-author journals but also many journals with a broader scope.
The Hemingway Review places scholarship directly into the hands of those readers most likely to apply it in teaching and research.
BACK ISSUES OF The Hemingway Review
All back issues of The Hemingway Review that are still in print are available for purchase from the Hemingway Society marketplace. To obtain no-cost or low-cost copies of articles published before 2000, contact your college, university, or public library's reference librarian. If the journal is not in your library's holdings, the librarian can help you find articles on subscription databases or through interlibrary loan.
A brief history OF THE HEMINGWAY REVIEW
The Hemingway Review --in its current form--was founded by Charles M. "Tod" Oliver in 1981 to serve as the publication for the newly founded Hemingway Society (1980).  However, The Review began initially as Oliver's attempt to revive Hemingway notes which was published by Ken Rosen at Dickinson College and Taylor Alderman at Youngstown State University from 1971 to 1974.  Oliver published his version of Hemingway notes from 1979 until the first issue of The Hemingway Review in 1981.