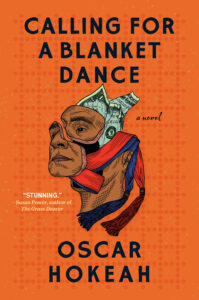 The 2023 PEN/Hemingway Award winner is Oscar Hokeah's Calling for a Blanket Dance.
From the judges' citation: "The world woven by Oscar Hokeah in Calling for a Blanket Dance is seamed with heartbreak and tragedy on resistance's loom: thus, this story of interlaced Kiowa, Cherokee, and Mexican lives is ultimately one of triumph—not only the triumph of art but of humanity. We see the protagonist, Ever Geimausaddle through the shifting lenses of intergenerational memory: we hear voices of pain, betrayal, humor, loss, goodwill, and above all love. There is much in our current world to bereave, to resist, and to change. With writers like Oscar Hokeah, we, his readers and audience, will also find the stories that bind us if we listen to his art's call."
For more information, visit the PEN press release.
Judges: Gina Apostol, Oscar Cásares, Matthew Salesses